Assimilation

Assimilation, which appeared in almost one quarter of the medical readings, referred not only to the body's intake of nutrients, but also to process of digestion. Cayce frequently warned against eating when upset, angry or distressed, saying that due to the resulting physiological changes in the body, food would remain undigested and become toxic to the system. Cayce also spoke of avoiding certain food combinations, specifically those foods requiring different acids to be digested. If such foods were eaten together, Cayce said, one type would be digested while the other would sit and ferment in the stomach thus becoming toxic to the body.

Just as mass-produced foods were beginning to appear, and decades before the whole-food movement became popular, Cayce was issuing warnings. He repeatedly stated that refined foods, sugars, red meat, and fried food were generally harmful to the body. "What we think and what we eat—combined together," Cayce said, "make what we are, physically and mentally."

Cayce did not just warn patients away from certain foods, he encouraged the consumption of others. For instance, in keeping with what is now known about the importance of ingesting active food enzymes, he recommended eating one meal per day of primarily raw vegetables. He also consistently instructed patients to eat whole rather than refined grains, saying that refined products not only lacked nutrients the body needs, but that such foods, with all enzymes and other elements removed, are actually toxic to the human body. And although he didn't use the contemporary term phyto-chemicals—the nutritional element related to the color of foods—he often recommended foods of a certain color for particular ailments.

Cayce also spoke of the acid-alkaline balance in the body, which he said was affected by the foods we eat—an area of nutrition that was virtually unheard of in the 1920's, and has only recently become popular. Cayce's general diet guidelines recommended the consumption of twenty percent acid producing foods, such as meats, starches and sugars, and eighty percent alkaline producing foods, such as vegetables, fruits and dairy products. To a forty-eight-year-old woman, Cayce said: "The less physical exercise...the greater should be the alkaline reacting food taken. Energies or activities may burn acids, but those who lead the sedentary life can't go on sweets or too much starches."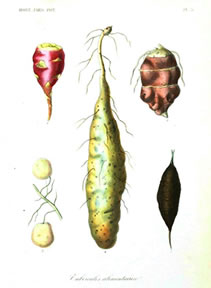 He also recommended that vegetables from below the ground, such as carrots, beets, and potatoes, should constitute only twenty-five percent of one's diet of vegetables, while above the ground vegetables, such as lettuce, squash, and tomatoes, should account for the other seventy-five percent. He recommended that only ten percent of our diet be fats, another ten percent proteins, five percent refined starches and sugars and the other seventy-five percent complex carbohydrates such as vegetables, fruits and grains.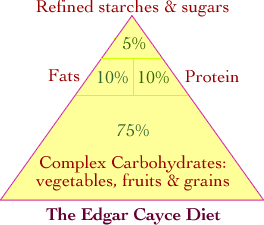 Long after Cayce's death, many of the seemingly radical guidelines he offered in the 1930's would be seen as having merit. But some of Cayce's recommendations still seem strange to this day. For instance, he stated in several readings that while tomatoes contain more nutrients than any other single food, when not vine-ripened, they are toxic to the human body. He also stated that carbonated drinks were to be almost always avoided, not just because of the sugar or artificial sweetener in them, but because they interfered with the interaction between the liver and the kidney. Other gems offered by Cayce included such statements as: apples should never be eaten raw, only baked or cooked, unless used for fasting purposes; only the peel of the white potato was of any real nutritional value; and coffee and tea become toxic when combined with milk or cream.
Recap
Do:
~ Eat one raw vegetable meal a day
~ Eat 80% alkaline-producing foods and 20% acid-forming foods. If you don't exercise, don't eat much acid-forming food at all.
~ Root vegetables should constitute only 25% of your vegetable intake with above-ground crops at 75% of your intake.
~Make sure your tomatoes are vine-ripened
~ Drink your coffee and tea black
Don't:
~ Don't eat when angry or upset
~ Refined foods, red meat, fried foods and sugar are harmful to the body
~ Eat non vine-ripened tomatoes
~ All carbonated drinks are harmful to your liver and kidneys